| | |
| --- | --- |
| Projects | |
What would a company be without projects? Without the capability of project planning and project managing, it can become very difficult to keep track.
To avoid this situation we can offer you with the e-loxx projects module a very powerful tool that will support you with these tasks perfectly.
Within the projects member section, you can add a member with their corresponding entitlements or remove them from the project. This process can be essentially simplified by using templates.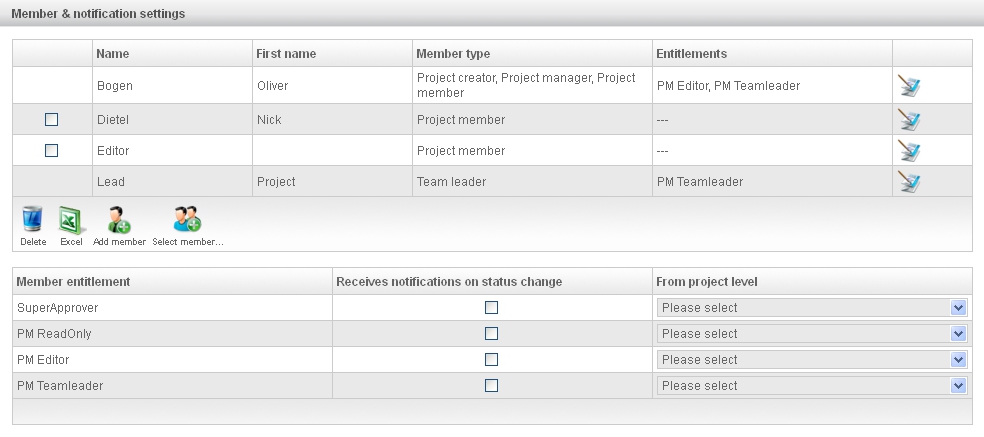 An automatically colored schedule and a Gantt chart for a visual presentation are included as well.

The creation of a calculation can be done in e-loxx in two different ways. On the one hand, you can do the entire calculation directly in the application on the other you can import an existing calculation into the system if available.
Understandably without the four-eye principle, it will not work.
To keep the approval process as simple as possible you can make use of approval matrices to define which groups or individuals you want to involve into the approval process. This saves time and money.

The system automatically validates the total amount of the calculation and highlights individuals able to finally approve the budget.
Once the budget is approved you can go ahead spending money.
After allocating the money into the different sub-categories (e-loxx can do this for you automatically) is it possible to create orders out of the project budget. Thereby project details will be taken over into the order. This saves a lot of time while order creation. Of course, you will find brief information and links to the projects if you create an order in that way. This will assist you in navigating back and forth between your project and your order.

You are looking for all-in-one business solutions?

Get our high dynamic workflow engine:

e-loxx